ART REVIEW: The Art Houses of Naoshima Island
For the traveler in Japan with a day near Okayama to spare, Naoshima Island's Art House Project is well worth the journey.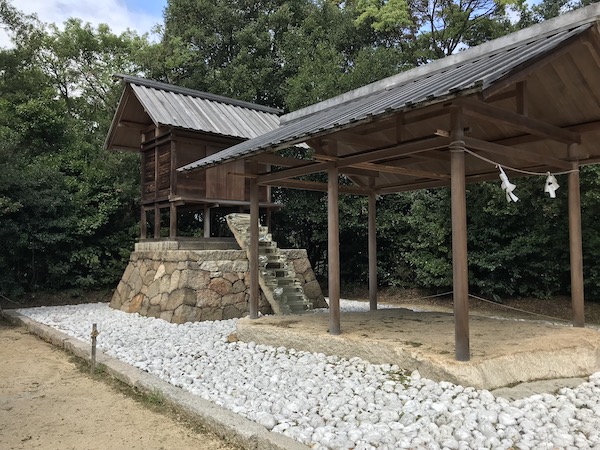 Go'o Shrine, "Appropriate Proportion" 2002 by Hiroshi Sugimoto. Photo by the author.
Since the late 1990s, contemporary artists and architects from Japan and elsewhere have taken over a number of structures, all located within about a seven-minute walk from one another, and completely transformed them. These sites are interwoven into the everyday pathways and rhythms of the streets of the village of Honmura on the island, rendering the spaces at times indistinguishable from the residences and businesses surrounding them. The art houses deliberately play with the boundaries of museum, sacred space, public place, house and home, often blurring them together in uncanny and disorienting ways. While most of the installations have not changed since their execution, with the most recent update occurring around 10 years ago, I thoroughly enjoyed experiencing the Art House Project during my visit in the summer of 2019.
Haisha's exterior—a cacophony of rough wood, rust and glass—appears to have been stripped bare and left exposed to the elements. Painted tiles outside the structure depicting teeth give a clue to the original nature of the building—a dentist's office and place of residence. In his work
Dreaming Tongue / Bokkon-Nozoki
, artist Shinro Ohtake has removed nearly all traces of utility and homeyness from the space, leaving behind a palimpsest of painting, sculpture, collage and other mixed media. One room is left in darkness, with slick, shiny deep-hued walls contrasting with a spongily-textured floor, while another is painted in rich blue hues, extending up through the second story, lit by natural light. A key trace of Haisha's origins as a house remains, however—as in Japanese homes, visitors are required to remove their shoes before entering.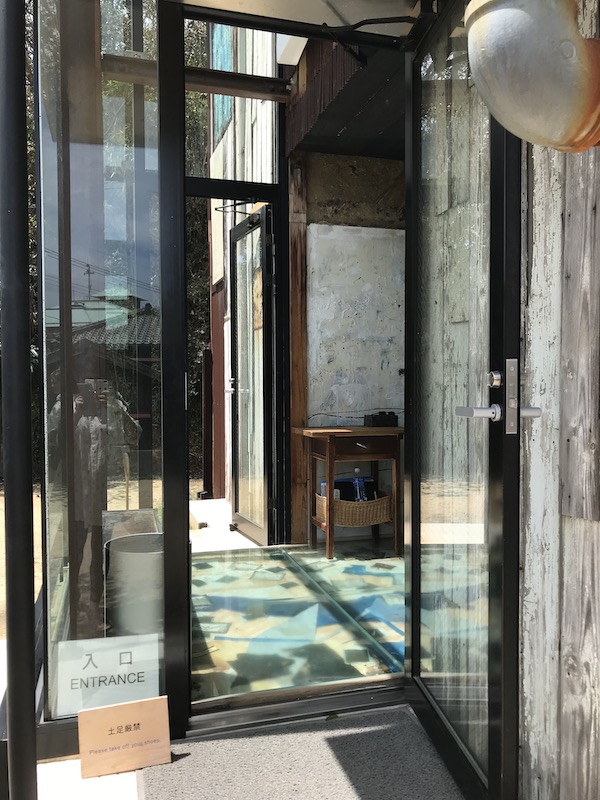 Haisha, "Dreaming Tongue/BOKKON-NOZOKI," 2006 by Shinro Ohtake. Photo by the author.
You take off your shoes to enter Ishibashi as well. Its smooth wooden floors, tatami mats and sliding doors harken back to its past as the house of a salt merchant. Hiroshi Senju's
The Garden of Ku,
painted in misty gray-black tones on the paper sliding doors, is best viewed from the house's courtyard garden. Senju's breathtaking, deep blue-and-white
The Falls
is tucked away in a darkened room lit only by cracks of natural light.
While the other structures in the Art House Project are created by Japanese artists, Minamidera features James Turrell's
Backside of the Moon
(1999) in a building designed by Tadao Ando. Once you've experienced the work, the inclusion of the American Turrell makes sense—you can draw a connection between how Turrell's use of light and atmosphere as active negative space reflects depictions of the sky in traditional Japanese landscape paintings. Backside of the Moon requires an unsettling amount of trust in the other viewers—or, rather, participants. You are led inside in single file, with your left hand bracing the wall. Every sound, like the crinkling of a water bottle, is magnified tenfold as you enter the space, sit down, and wait for your eyes to adjust to what feels like vast, swollen darkness. The people stumbling out in front of you at the end of their visit to Minamidera, squinting against the sun, were a clue.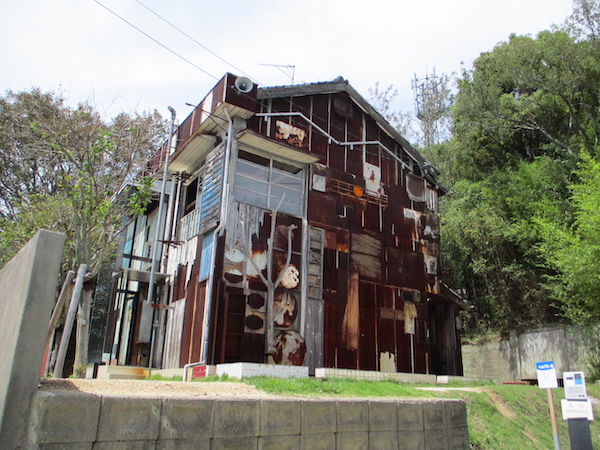 Haisha, "Dreaming Tongue/BOKKON-NOZOKI," 2006 by Shinro Ohtake. Photo by the author.
The Go'o Shrine is a twofold experience, depicting light and darkness in mirror image. The art experience itself is Hiroshi Sugimoto's Appropriate Proportion (2002). The above-ground half features the ancient wooden building, elevated away from the visitor on a bed of small pale stones. A staircase of glass links this half to its polar opposite: a narrow underground chamber just below, lit only by flashlight and accessible only through a narrow concrete passageway, where the glass stairs come to rest in a pond of water just beyond your feet.
Gokaisho (repurposed and populated with art by Yoshihiro Suda from 2006) is similarly bifurcated, with the two rooms of this former recreational building presented explicitly for comparison—both with one another, and each with its immediate surroundings. One room is strewn with wooden camellia flowers carved by Suda, meant to contrast with the camellia tree in the building's courtyard. In the other, a stick of real bamboo is paired with a carved imitation in wood; handicraft gives nature a run for its money.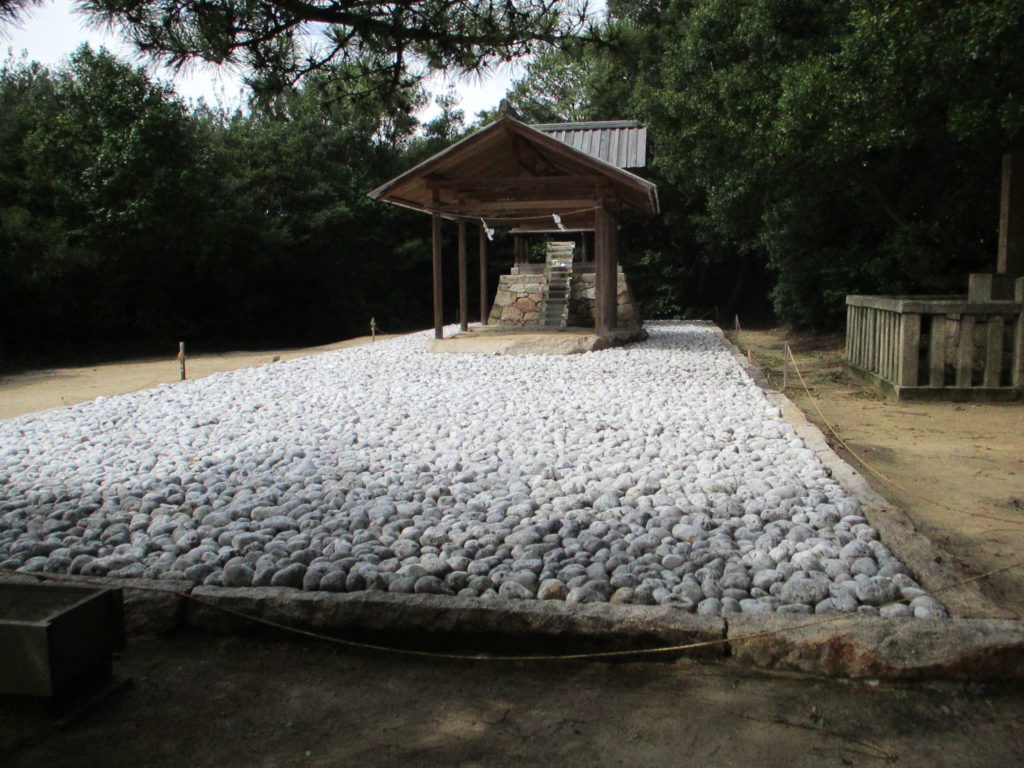 Go'o Shrine, "Appropriate Proportion" 2002 by Hiroshi Sugimoto. Photo by the author.
The final house I saw, Kadoya, links the touristic elements of Naoshima's Art Houses and the parallel lives of the people who live in Honmura. Tatsuo Miyajima's Sea of Time (1998) consists of a pool of water in the center of the room dotted with blinking LED lights flashing from 1 to 9 again and again at what seem to be arbitrary speeds. In Sea of Time, the artist worked with residents of Naoshima Island to set the speed of the timers, which serves to represent the lives of the locals even in a room that may be crowded with tourists looking for endless, rapid-fire stimulation. Every time a new visitor enters Kadoya, ripples flutter across the surface of the water, making the lights flicker, but not changing how they record and display each passing moment.
The Art Houses are not museums, and they aren't residential homes any longer; they're not rarefied tourist attractions and they definitely aren't hidden away. Instead, they are places where the imaginations of artists run wild and hold visitors and locals alike in their grasp.